See it in action!
Request a demo and
start a trial today.
Facility manager is one of the widest-branching jobs out there. Mountains of continuous responsibilities, from HVAC to custodial services, not to mention strict regulatory standards, aging assets, and high expectations for cost cutting all top your to-do list. 
That's why more and more of today's facility managers are choosing ProntoForms, a tool that helps you maximize your efficiency and effectiveness. With a mobile form solution, you'll easily keep track of your facilities' needs and maintain compliant to every regulation they're beholden to. 
Here are a few of the many helpful features you'll find with ProntoForms: 
Mobile Forms: Wave goodbye to the unnecessary expense and inconvenience of paper forms. Using ProntoForms, create, dispatch, complete, and submit forms from a phone, tablet or desktop. That means that no matter where your technicians are or what issues they encounter, they will have all the forms and all the information they need right on their mobile devices.
Capture Rich Data: When filling forms from a mobile device, add and edit photos, generate GPS and timestamps, record audio, and more. This will allow field techs to clearly indicate points of concern on a machine or location, as well as keep detailed records of maintenance work.
Access Existing Data: Easily access data gathered from past forms in the field or in the office. This proves useful in tracking compliance with certain regulatory standards or for keeping track of facility maintenance.
Contact us today for more information, or to start your free trial today!
THE LEADER IN MOBILE FORMS
Mobile app features made for efficiency
Create forms and dispatch for greater efficiency
Recreate forms for mobile with an intuitive form builder, and dispatch populated forms to workers in the field to avoid unnecessary trips to the office and repeated data entry.
Add photos, inside your forms
Take or insert photos and sketch on top of them to provide visuals of site activities and better report on field issues.
Work offline
No matter where you're working, fill forms with or without connectivity; they'll auto-send once the network is restored.
Capture signatures and barcodes
Collect authorization signatures on the device using the touch screen, and expedite data collection by scanning barcodes in the form to populate from a data list.
Add GPS and time stamps
Quickly confirm the location of job sites, customer visits, time of arrival, and work performed for visibility when auditing.
Connect the office to the field with two-way data flows
Maximize your productivity with pre-built dashboards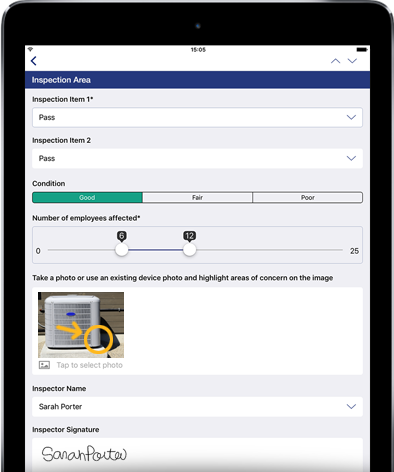 ProntoForms - The Global Leader in Mobile Forms, Made for Today's Facility Manager