Pest Control Forms Templates
See it in action!
Request a demo and
start a trial today.
You run a busy Pest Control business and you've learned the hard way that paper forms can be costly and time consuming. Converting to mobile forms will help streamline daily, weekly, and monthly duties.
Your technicians and exterminators likely use a variety of standard service agreements and work order forms, but the job will sometimes require custom forms, and when paper is involved, making that change can be a hassle.
ProntoForms has you covered with pre-made, easily customizable Pest Control forms and templates, ranging from general service reports to Bed Bug Inspections and Wild Animal Removal. It's also easy to add your own logo to any form.
Examples of Pest Control Forms include:
Pest Management Service Report – Enable technicians to log the pests that were present on a job site, and detail the solution that was used to treat the affected area
Bed Bug Home Inspection Checklist – Capture detailed incident data including history of bed bugs, areas affected (with photo attachments) and recommended treatments
Wild Animal Removal Sales Order – Outline trapping methods, costs, and other information associated with the wild animal removal services that you are performing for your clients
IPM General Inspection for Schools – The Integrated Pest Management Inspection Checklist is used in schools during regular inspections
The ProntoForms Library includes standard service agreements, residential checklists, and service orders specifically for the Pest Control industry.
Contact us today for more information.
Request a demo and a free trial!
THE LEADER IN MOBILE FORMS
Mobile app features made for efficiency
Create forms and dispatch for greater efficiency
Recreate forms for mobile with an intuitive form builder, and dispatch populated forms to workers in the field to avoid unnecessary trips to the office and repeated data entry.
Add photos, inside your forms
Take or insert photos and sketch on top of them to provide visuals of site activities and better report on field issues.
Work offline
No matter where you're working, fill forms with or without connectivity; they'll auto-send once the network is restored.
Capture signatures and barcodes
Collect authorization signatures on the device using the touch screen, and expedite data collection by scanning barcodes in the form to populate from a data list.
Add GPS and time stamps
Quickly confirm the location of job sites, customer visits, time of arrival, and work performed for visibility when auditing.
Connect the office to the field with two-way data flows
Maximize your productivity with pre-built dashboards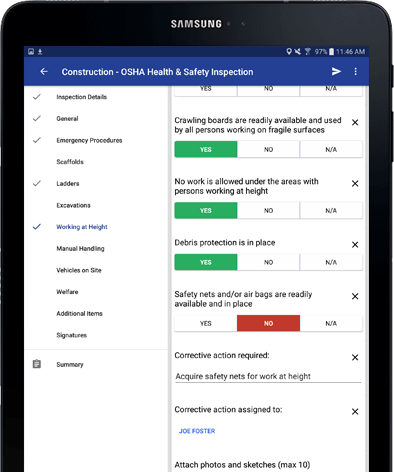 ProntoForms Gives You an Array of Pest Control Forms & Templates