See it in action!
Request a demo and
start a trial today.
There are countless advantages to opting for mobile data entry instead of paper forms.
No longer will your day consist of having to collect forms, take them to the field, bring them back to an office, and interpret the hand-written entries to enter them into a back-end system. With ProntoForms, just pull out your phone or tablet, fill the form wherever you are, and submit it. Working off the grid? Not a problem. Forms will submit automatically when connectivity is restored.
Going mobile can also give you an edge over the competition.
Here are a few of the ways ProntoForms can help you do that:
Maximize Efficiency: What once took hours can now be done in the blink of an eye. Fill a form using a mobile device, and forms will instantaneously be filed in your system. You can also set forms up to email or text certain people depending on the answers collected in the form. 
Improve Data Quality: ProntoForms lets you pre-populate forms with existing back-office data, as well as attach and edit pictures, scan barcodes, add GPS and time-stamps, and much more for quicker, more accurate, richer data collection.
Gain Insight: With our customized Analytics platform, you can easily keep track of the data that matters to you. View real-time interpretations of incoming and historical data to uncover patterns, reveal correlations, and discover the root causes of critical issues.
Choose from hundreds of customisable templates, or create your own forms with our intuitive software. No coding required!
For more information, contact us today to request a demo and a free trial.
THE LEADER IN MOBILE FORMS
Mobile app features made for efficiency
Create forms and dispatch for greater efficiency
Recreate forms for mobile with an intuitive form builder, and dispatch populated forms to workers in the field to avoid unnecessary trips to the office and repeated data entry.
Add photos, inside your forms
Take or insert photos and sketch on top of them to provide visuals of site activities and better report on field issues.
Work offline
No matter where you're working, fill forms with or without connectivity; they'll auto-send once the network is restored.
Capture signatures and barcodes
Collect authorization signatures on the device using the touch screen, and expedite data collection by scanning barcodes in the form to populate from a data list.
Add GPS and time stamps
Quickly confirm the location of job sites, customer visits, time of arrival, and work performed for visibility when auditing.
Connect the office to the field with two-way data flows
Maximize your productivity with pre-built dashboards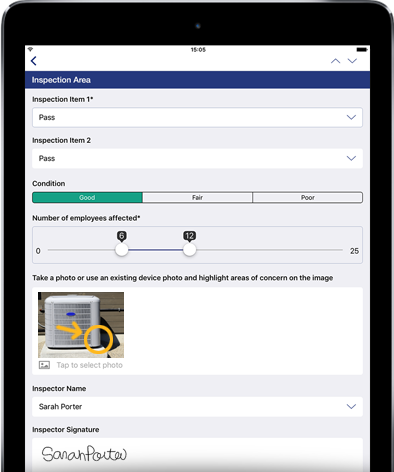 ProntoForms: The Go-To Solution for Mobile Data Entry