HVAC Report Template & Inspection Checklist for iOS & Android
See it in action!
Request a demo and
start a trial today.
Paper forms are one of the largest obstacles to an HVAC technician's productivity. Paper forms cost time and money. They've got to be ordered, distributed, returned to the office, interpreted, and that data has to be entered into a back-end system, and the paper forms stored.
Fortunately, ProntoForms makes eliminating paper forms easy.
The global leader in mobile forms, ProntoForms offers hundreds of customizable form and checklist templates, from HVAC inspection report templates to work order forms and invoices.
Here are three reasons to choose our mobile form solution:
No More Paper: No more chasing outdated forms and hauling stacks of forms from the office to the field and back. Create, dispatch, complete, and submit forms from your computer or mobile device.
Access Existing Data: Allow field technicians to access important company data from the field, including price lists for parts, or service notes from past inspections of the site.
Automatic Report Generation: Automatically generate reports based on collected data, which can be sent as professional PDF documents to customers, managers, or key shareholders.
Contact us today for more information, or to start your free month-long trial today!
THE LEADER IN MOBILE FORMS
Mobile app features made for efficiency
Create forms and dispatch for greater efficiency
Recreate forms for mobile with an intuitive form builder, and dispatch populated forms to workers in the field to avoid unnecessary trips to the office and repeated data entry.
Add photos, inside your forms
Take or insert photos and sketch on top of them to provide visuals of site activities and better report on field issues.
Work offline
No matter where you're working, fill forms with or without connectivity; they'll auto-send once the network is restored.
Capture signatures and barcodes
Collect authorization signatures on the device using the touch screen, and expedite data collection by scanning barcodes in the form to populate from a data list.
Add GPS and time stamps
Quickly confirm the location of job sites, customer visits, time of arrival, and work performed for visibility when auditing.
Connect the office to the field with two-way data flows
Maximize your productivity with pre-built dashboards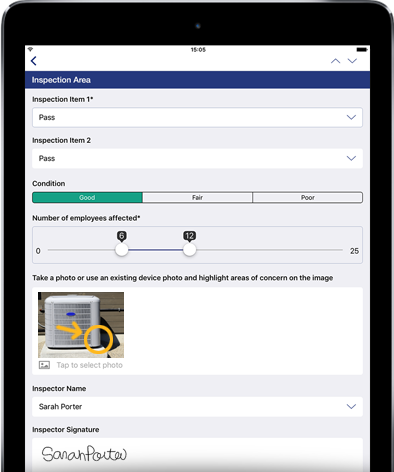 ProntoForms - A Mobile Forms App with Powerful HVAC Applications